OUR TITLES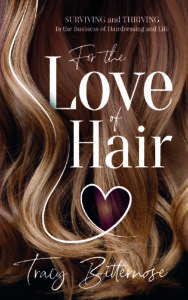 It will make you laugh. It will make you cry.
It will make you look at your hairdresser like you never have before.
There's more to cutting hair than scissors.
For Tracy Bitternose, hairdressing was a way to deliver beauty, inspiration, kindness, creativity, self-worth, and strength not only to herself, but to every person who sat in her chair.
She's been through it all: abusive relationships, divorce, self-loathing, health issues, and even cancer, and has come out of it all blessed, successful, and loved. Nothing can stop the indomitable spirit of a woman who desires to cut hair!
In "For the Love of Hair", author and stylist, Tracy Bitternose, takes you on an intimate journey of struggle, pain, hope, triumph, and laughter as she chronicles her life experience as a hairstylist and entrepreneur. This book is a smart and inspirational guide to picking yourself up and standing with your head held high (with fabulous hair, of course!)
No matter how hard life knocks you down, you can get up and be the amazing person you are meant to be.  And if you need help, your hairstylist will be there, to hold your hand and make sure you look good along the way. Why? Because YOU MATTER!
 Available in Canada here and in the USA here.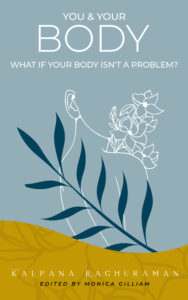 When was the last time you marveled at the amazing gift of your body?
Have you ever done that? Or have you been fighting with your body, trying to live up to the romanticized body ideals flashing at you from all sides?
What if, no matter where you are starting from today, there is an even richer world of possibilities available with your body? Would you be willing to let go of the difficulties you have been struggling with the longest and open up to the wisdom that the body itself can offer you?
For those of you ready for a glorious, kinder than you may ever have imagined adventure, step into the invitation of You & Your Body and explore everything from what you choose to eat to how you see yourself in the mirror in a whole new way.
Just watch out, you might really like what you find.
 Available in Canada here and in the USA here.
Also available in French. Disponible aussi en français, ici.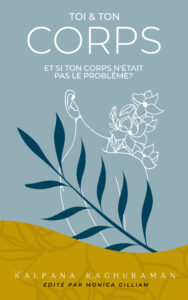 C'est quand la dernière fois que tu as été émerveillé par le cadeau incroyable qu'est ton corps?
As-tu déjà fait ça?
Ou est-ce que tu luttes contre ton corps, en essayant d'être à la hauteur des idéaux romantiques du corps qui te sont lancés de tout côté?
Et si, peu importe d'où tu démarres aujourd'hui, il y avait un monde encore plus riche de possibilités avec ton corps?
Serais-tu prêt à abandonner les difficultés avec lesquelles tu as du mal depuis tellement longtemps et à t'ouvrir à la sagesse que le corps lui-même peut t'offrir?
Pour ceux d'entre vous qui sont prêts pour une aventure glorieuse et plus douce que vous ne l'auriez jamais imaginé, entrez dans l'invitation de Toi & Ton Corps et explorez tout, en commençant par ce que vous choisissez de manger jusqu'à la façon dont vous vous voyez dans le miroir d'une toute nouvelle manière.
Attention, vous aimerez peut-être vraiment ce que vous découvrirez.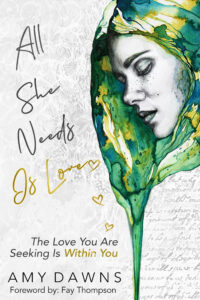 What if the key to loving yourself was within you this entire time?
Beyond the body and the mind, something else exists. It has been called God, Buddha, Consciousness, Universe, Energy, Source, Higher Power, Higher Self and Inner Being. It is even called LOVE. Can one truly come to know this LOVE of the Higher Self – the God within us? Is there a deeper truth to our stories, pain, and trauma? Is there liberation within embracing all aspects of who we are with love and compassion?
In All She Needs is Love, you will feel the diversity of emotions, pain, heartbreak, trauma, triumph, connection, compassion, sovereignty, and grace that will lead you through its pages like a dance. You will receive permission to explore all of you in the expression of the poetry and insights on its pages. You will be held in love and adoration as you feel deeply connected to these words. Some of them may feel like you could have written them yourself, giving you reassurance that you are not alone and that we are much more alike than we are different.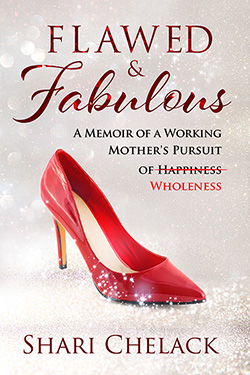 Like many millennials, Shari Chelack began adulthood trying to live up to the perfect image she saw on her Instagram feed. Overwhelmed by caring for two young sons while maintaining a corporate career and the business she ran with her husband, she lost hope of finding the fairy-tale she'd dreamt of.
Little did she know, it would be on the yellow brick road of motherhood that she would learn her most invaluable life lessons.
With humour and raw honesty, Chelack shares her journey from being a successful but miserable briefcase-carrying career woman to discovering she already possessed the magic to create the balance and happiness she'd always wanted.
Readers of Girl, Wash Your Face, Love Warrior, and Wild will love this uplifting memoir of overcoming expectations to find magic, happiness, and healing while being a working mother.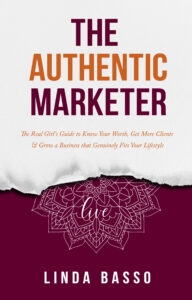 Dive into The Authentic Marketer and discover:
How to do marketing that feels real instead of "supposed to" or all over the board (so you can stop seeing it as a TON of work or seeing what other people are doing with none of it resonating for you)
How stop being so hung up with trying to figure things out and know the worth of being YOU to bring in clients (and finally drop mindset issues like getting stuck in the belief that there is a right way to do it, not finding the time and courage to be visible, or fears that growth will bring unwanted change) 
How to create a marketing plan that gives you the confidence to do whatever it is you need to do to grow your business (without having to compromise your lifestyle so that you can still love your life)
Get going to grow a business that genuinely fits the real you today!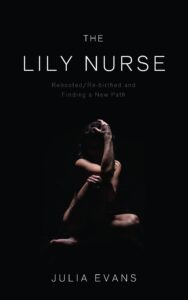 AMAZON BESTSELLER
Have you ever wondered what a near-death experience is like? Julia Evans can tell you. She's heard the whispered questions and seen the quizzical looks, and now she's sharing the full story of the day that transformed Julia Evans into The Lily Nurse.
See the experience through her eyes as it loops, turns, and links back together, illuminating a journey like no other. Immerse yourself in her story as she shares the details of the day that changed her forever, what came before, and how it set her forth on a new path.
Read how she steps out of the shadows she was placed into, and learn how truly empowering it is for one's self to finally be heard. Finding your voice has its own power in healing. When you are heard, you are able to heal at all levels—mind, body and spirit.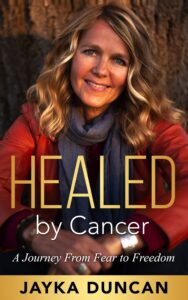 AMAZON BESTSELLER
After receiving her second cancer diagnosis in ten years, with little hope of recovering given to her by the medical community, Jayka Duncan set forth on a mission to heal. After trying everything, she was shocked to find that the cancer had spread from her breast to her cervix and uterus. Brought to her knees, Jayka finally surrendered. This is when the true healing began.
Healed By Cancer is the story of a woman's honest and empowering experience with healing – not only from Stage 4 cancer but from life. Come learn Jayka's story and surrender method that not only got her a clean bill of health, but also put to rest issues she had struggled with for much of her life including hypothyroidism, insomnia, digestive issues, bulimia, money struggles, father issues, guilt, shame, fear of rejection, and so much more.
Whatever your issue, what might learning to surrender do for you?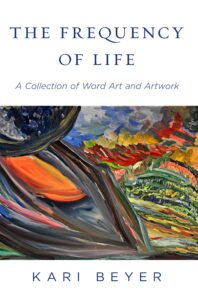 The Frequency of Life is a collection of word art and artwork that allows you to observe yourself while encountering life. Healing on all levels can be that simple. This book is about using words and art to help you heal and grow your physical, emotional, and spiritual body mind.
The author, who is both an artist and healer, has put together a compilation of poetry, prose, and artwork to assist the reader in going deeper into themselves. This book will help anyone who feels stuck, has trouble reflecting, is dealing with emotional trauma, or wishes for enhanced self-care.
The Frequency of Life will allow the reader to:
come to a place of calm and release anxiety
release feelings of awkwardness and not belonging
bring clarity and focus to the body, mind, and spirit
open their heart to self-love through self-awareness.
Vibrate at the frequency of LIFE, and find the essence of the beauty of YOU!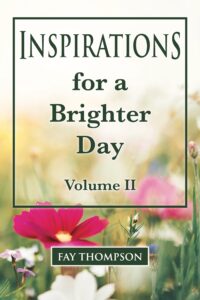 Be Inspired!
Think of a question and open to a page to find the message that the Universe is yearning to give you. Each insightful inspiration contained in this volume will lighten your load and make your day and life brighter. 
Each page contains a new and unique look at matters we face day to day and space for you to journal your own notes. 
This is the second volume of inspirations compiled by Fay Thompson.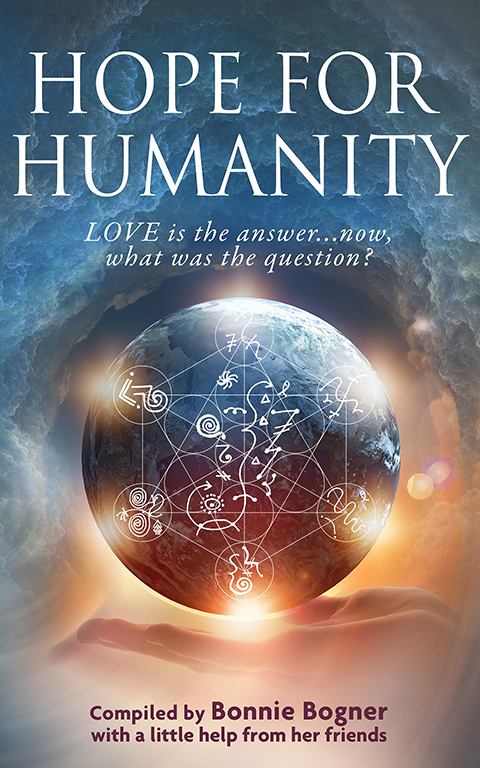 Six gifted channellers dip deeply into their hearts and knowing to provide messages from the divine that will inspire and uplift you. They invite the reader to a new understanding of the world sparking hope and giving encouragement to embrace the changing world that is before us. Their collective intention is to lift you up and remind you of your own divinity.
As you read Hope For Humanity, you will:
Realize there is more for you – including love, experiences, and life to enjoy
Recognize ease is possible for you in all areas of life
Become inspired to create a brighter future
Be encouraged to let go of the heaviness, weariness, and worry you hold onto
Most of all, you are reminded that stepping into LOVE creates the way to Oneness, Peace, and Hope.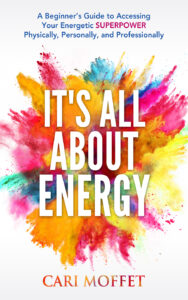 Energy is everywhere and you have the ability to access this superpower to change your home, business, and body!
Energy expert, Cari Moffet, shares with us her knowledge, tips, and experience of how she used energy to heal herself, help others, build her business, and play with all that is possible. Imagine being able to dissolve conflict, stress, and worry. Imagine creating your dreams as reality. It's possible when you learn how energy works and that you have the ability to use it.
What if it is easier than you think?
In this book, you will discover how to:
Make energy work for you
Recognize and release energy blocks that lead to stress and disease
Work with energy to improve your relationships, business, and health
Use energy to access the superpower that you are!
Energy is all around you. Start using it today to create healing, a sense of contentment, and a life of ease.
Gina Strole always knew she was different. As a child she could sense things that others couldn't see or hear. She was constantly hearing voices in her head. Growing up in a very religious household that viewed all things spiritual as the devil's work, Gina worried there was something very wrong with her and prayed for help.
Everything changed when the family was shaken with the news of her brother's suicide. Little did she know that her brother's death would serve as a catalyst in finding her truth, her voice, and her courage to be her authentic self – a medium.
In this book, Gina Strole shares her journey and insight about walking through the fear of being able to communicate with spirit, letting go of fear-based religious beliefs, and truly coming to a place of glory and gratitude for her gifts and life.
If you are someone who is sensitive to energy, struggling with who you are, or afraid of your abilities to communicate with spirit, let Gina Strole guide you to empowerment, confidence, and the freedom to enjoy being you!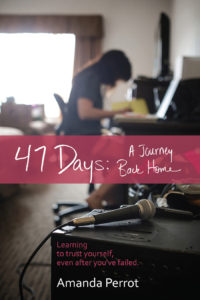 AMAZON BESTSELLER
What happens when you make all the "responsible" choices, and you still feel like a miserable failure?
For Grounded Goodness founder Amanda Perrot, the answer is to get out of town. She crammed her business into a Subaru nicknamed Vladamir to spend 47 days discovering her home province, and what life could look like after her marriage failed. It started as a way to see new parts of Saskatchewan and sell some stuff along the way, but seven weeks later she'd learned more about herself and the power of community than she ever expected.
Amanda offers a glimpse of hope for women who know they would be happier if they left their marriage but don't have an obvious or clear reason to point to when they explain why they want a divorce. This is a first-hand story of transformation that reassures us of the goodness and positivity that can come out of making the terrifying leap back into single life, and inspired to have our own difficult conversations.
This is a story for every woman who is tired of questioning herself and wants the unvarnished truth of what happens when we learn to: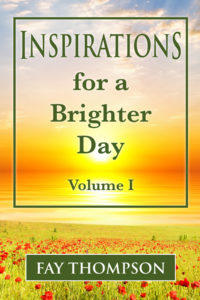 For years, the author, Fay Thompson, has been writing daily inspirational messages on Facebook. Now, she has compiled 222 of her favourite selections into one volume. Each selection is aimed to inspire and empower the reader to reach higher, dream bigger, and make each day greater. The insightful inspirations take a unique look at life and its hardships, and give suggestions on how to finally release yourself from the judgments, struggles, and worries you are carrying. They are written in everyday language – easy to understand and easy to relate to. On each page there is an insightful inspiration with space to journal your own notes.
No matter what may be troubling you, these inspirations will widen your perspective and make you see things in a new light.You can use this book for daily meditation, reflection, or as your own personal Magic 8 Ball. Just ask a question and open to a page to find your guidance. No matter how you use it, it is sure to make you look at life in ways you never thought of before and to release the judgments you carry that are limiting you or making you feel small.This book will brighten anyone's day who needs a lift.